Ratings & Reviews

Broken Garage Door Springs? Issues with the door fully opening and closing? Misalignment with the track? Electrical issues? Clickers not working? Not sure what the problem is?
Whatever your garage door issue, we can help. That's right, if you're faced with a garage door problem that needs repair or if your door needs to be replaced, consider us your reliable, professional service provider to handle any issue you're experiencing, whether it's minor or major. With evening and weekend appointments available and the ability to service most brands, we make it easy to get the repair or replacement that you need at the time that's most convenient for you.
Your All-in-One Garage Door Repair and Replacement Professionals
Here's a closer look at why we're your trusted, reputable garage door service professionals:
We're a local mobile company that offers same day service, including weekend and evening appointments at no additional fee.
We offer detailed written estimates regarding repair/replacement costs prior to starting work with no hidden fees or extras when it comes time for payment.
We won't just repair the problem or install a new door, we'll also educate homeowners on how to maintain and safely operate the garage door for long-term operational success.
We accept all major credit cards.
We only charge a service fee of $25 per appointment, which is waived on repairs of $100 or more.
The True Value of a Garage Door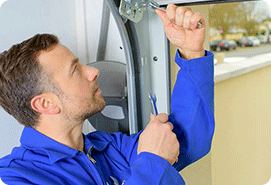 If you're having garage door problems, Garage door repair or replacement is likely a top priority. After all, the convenience of just pushing a button to open and close one of the most common points of entry and exit to the home is something that many homeowners have come to take for granted. But aside from safeguarding your automobiles and valuables inside of the garage, there are several other reasons to ensure that the garage door is in good operating condition. For instance, garage doors are an investment, and those in good working order are estimated to increase home value by as much as 4 percent compared to those that are in poor condition. What's more is that manually opening and closing a damaged door has the potential to cause injury, so there's certainly a safety aspect to this as well.
Garage Door Replacement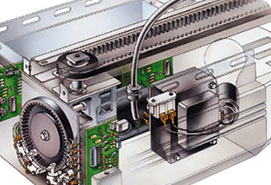 While we're capable of diagnosing and repairing any issue imaginable when it comes to garage doors, we also offer new door installations. Our new door offerings include materials ranging from vinyl to steel and styles ranging from custom wood to carriage to best suit the look you want and also complement the other exterior features of your home. Estimates on new doors are free of charge and we're here to help answer questions and offer suggestions every step of the way to pair you with the type of garage door that meets your budget and your requirements.
We also specialize in new Garage Door Opener Installation, and offer the three major types of openers – chain-driven, belt-driven and screw-driven.

Don't let garage door issues linger – contact us to have the problem solved in a convenient and efficient manner. Contact us today for more information on our services or to schedule an appointment.